Lieutenant Theo Kojak is the main character for Kojak. He is a bald police detective with a fiery righteous attitude who battles crime in his city.
1973 version
Edit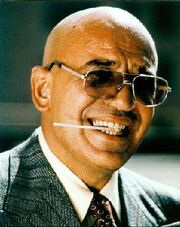 Kojak is a Greek/American policeman with a lot of experience on the force and an unpleasant temper when he doesn't get his way. Kojak, best known for his fondness for lollipops and the catchphrase "Who loves ya, baby?", solves crimes throughout New York City with the help of the other detectives in the 13th Precinct, who include Kojak's partner Sergeant Bobby Crocker and Detective Stavros, a pudgy detective played by Telly Savalas' brother George.
Kojak was actually introduced in a TV movie predating the television series by several months, The Marcus Nelson Murders, and due to its popularity a television series was commissioned. Kojak's popularity continued for years, with the grouchy Greek detective becoming something of a symbol for the nation's police and the show even attracting the attention of the Queen of England, who actually requested that Telly Savalas attend a function at the White House so she could meet him.
2005 Version
Edit
This time, Kojak is a black person with the same attitude.